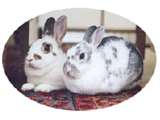 Rabbit Bedding Is Important To Your Rabbit.
The main purpose for rabbit bedding is comfort. It gives your rabbit a comfortable place to relax. He can lay, sleep, burrow and nest in his bedding. There are a few different types of materials available you can use to help your rabbit feel right at home.
Hay and straw are a natural material that is best suited for rabbits that are kept in outdoor cages. This way you do not find the hay and straw throughout your home. I found out that my boys love making a mess with their hay.
Hay is very important to a rabbit. It helps with their digestive system. I give my Oreo loose hay in small amounts in a basket; he likes to pull it out, play with it and some of the hay he will lay on it.
I also have old towels and sheets that I put down for him to lie on. He likes to ball them up and move them around. It's his room, so he can do as he pleases.
It's so cute when I put down a clean sheet or towel. He hops over and grabs the sheets to move it. As if I didn't put it down correctly. After he is done arranging the sheet just the way he likes it, he will stretch out on it. AHHH!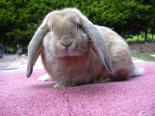 I also use a natural wood pulp fiber for his litter box. It's soft, dust free, and scent free. Oreo loves to lie in his litter box, I find him sleeping in it sometimes. He also loves kicking the bedding out of his box.
I like this rabbit bedding as a litter because it doesn't have any scent to it and it has a great odor control. Unlike the pine shavings that may cause some rabbits to have some upper respiratory problems. I know it happen to Foo; he was having problem sneezing and the vet told me to change from the pine litter. After I switched Fu was okay.
I also tried corn cob products, cat litter that was dust free, and other wood pulp products, but my favorite that I have been using for years is made by CareFresh. It's a pet bedding that comes in a compressed bale. They have a natural, which I use, or it comes in colors.

Here is a suggestion for supplies.
Rabbit Bedding - Check out this site.


I also like the wood pulp bedding because it does not make a mess as some other products do. The mess around Oreo's litter box is made by him kicking the bedding out. With some other products, the bedding was tracked throughout the room. The wood pulp bedding is a cleaner bedding.
I have given Oreo some shredded paper for him to burrow in. He loves it; he can dig in it, lay in it and just have fun with it. I put the paper in an area in Oreo's room so it is somewhat contained. It does make a little mess, if Oreo decides to move the paper around.
So when you are looking for a rabbit bedding for your buddy, check out all the available products and see which one will fit your needs and your rabbits needs the best. These products are easy available at your local pet store or on the web.
Enjoy!